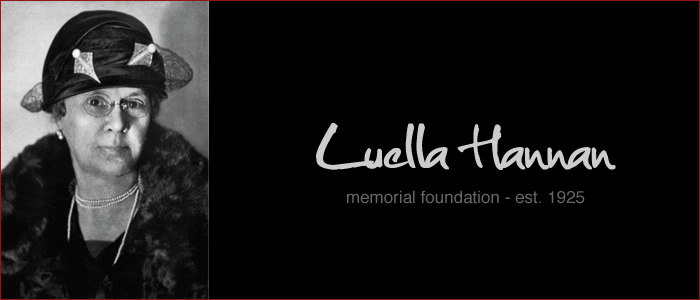 History of Hannan
In 1925, after the death of her husband William, Luella Hannan founded the Luella Hannan Memorial Foundation to serve aged persons in Detroit. Today, celebrating over 90 years of service to older adults, Hannan's reach extends into the city's tri-county area.
During its first five decades, Hannan provided comprehensive lifetime assistance to hundreds of low-income seniors living in their own homes. Then in 1971, the Foundation built Hannan House, a four-story licensed home for the aged to provide an affordable living environment that promoted independence. In that same year, The John Scudder Foundation for Old People merged with the Hannan Foundation. Founded in 1925 from a bequest by John Scudder, its purpose was also to aid seniors. Since its 1931 incorporation, it has operated with the same board of trustees and staff as the Hannan Foundation.
In 1993, Hannan conducted a comprehensive study of Detroit seniors living in the central city. The results indicated that the single-room housing provided at Hannan House was no longer in demand. Instead, the study showed that access to services was a major problem for seniors. In response, and after consultation with senior service experts, the Foundation converted Hannan House into a centralized location for seniors to access services to meet their medical, social, financial and housing needs.
In 2017, the Hannan Foundation established a separate 501 C 3, Hannan Center, to house the programs of the Foundation. Over 92 years since its founding, Hannan continues to initiate, operate and support a number of programs and services  in areas such as advocacy, creative aging and service coordination/case management.
- Mission -
The mission of Hannan Center is to preserve the dignity and enhance the quality of life of seniors in Michigan.
- Vision -
The vision of Hannan Center is that seniors are respected, valued and empowered to reach their potential and connected to a community of their choice.
- Values -
Commitment to Healthy Aging - Hannan Center is committed to enriching the lives of seniors, enabling them to find fulfillment and meaning in their lives, and helping them to reach their potential.
Empowerment - Hannan Center empowers and enables seniors to make informed choices, advocate for themselves and advance the interests they most value.
Respect - Hannan Center values the life experiences and recognize the inherent dignity in each person the foundation serves.
Innovation - Hannan Center is a leader that pursues novel and creative approaches to enrich the lives of people as they age.