The Gallery was created in 1994 as a venue for the exhibition of work of the artists (60 and older) studying in Hannan educational programs. Named to honor Ellen Kayrod, long-time manager of Hannan House and executive director of the Foundation, it has continued to highlight the work of older artists. Under the leadership of Mary Herbeck as curator from 2002-2010, the format was expanded to 6 exhibits each year, open to all artists in individual invitational shows as well as open exhibits which bring together amateur and professional artists. The Hannan Café also serves as a venue for art exhibition highlighting work from community projects, master artist workshops as well as individual artists.
Current Exhibit:
Women Strong
January 26 - March 30
The Women Strong exhibition amplifies the voices of women from varying backgrounds and experiences and demonstrates the power and influence of women speaking through their art.
Over 50 women artists are featured in this powerful exhibit
Also, don't forget to check out Kayrod's permanent installations -  "Transitions" and "Sunbeam Sculpture" are located in the foyer and outside garden respectively.
Pam Halladay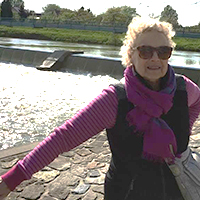 Born in Detroit and  growing up in Kentucky, Pam came back to the city at a tumultuous time in August 1967. She  never imagined 50 years later she would be managing an art gallery in the same neighborhood where she  first worked as a case manager for the Department of Social Services.  A neighborhood characterized by small working class houses and storefront business declining and giving way to abandoned property, vacant land and to the development of subsidized housing and the growing medical center and Wayne State University. Now the neighborhood is continuing to thrive and expand as  Midtown — home to many galleries.
The Ellen Kayrod Gallery, started in 1994, primarily as an "in house" venue for the work of participants in the Senior Activity Program, initiated in the transition of the building from residence to non-profit center in 1993.  For most of the people enrolled, the art classes and workshops were their first experiences in art since early school days.  There were of course a few people who had been engaged in art for many years.  The Gallery presented the opportunity to show their work with other amateur artists.
After many years working on in innovative projects for older adults in Detroit, and earning a Masters of Unban Planning at Wayne State University, Pam came to the Foundation as the first Senior Program Officer in 2001. In 2002, Mary Herbeck joined the staff as curator with the experience necessary to develop the Gallery and put it on the road to growth and expansion bringing it to the respected venue it is today. With Mary's guidance and hard work, Kayrod Gallery became a place where professional and emerging artists (all 60 and older) like to show their work.
Pam's role with the gallery intensified in 2009 taking on curatorial and administrative duties.  With the expertise and talent of James Puntigam, the Gallery is better and stronger,  providing diverse art programing available to a wide audience. 
It's been a learning experience Pam did not anticipate, the cultural partners, the people, the art, flourishing in the neighborhood she has been part of for decades.
James Puntigam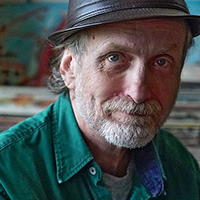 James Puntigam has been painting in Detroit for 30 years. He studied at Wayne State University, Wayne County Community College, and Henry Ford Community College. His work has been influenced by abstract expressionism, surrealism, art brut and outsider art.  He has exhibited his very expressive art in local venues such as the Johanson Charles Gallery, Zeitgeist Gallery, Galeria Biegas, 2 South Gallery, Willis Gallery, Galerie Jacques in Ann Arbor, Ann Arbor Art Center, The Detroit Repertory Lobby Gallery, Space Gallery, Start Gallery Birmingham Mi., Michigan Gallery. ACT Gallery, Paint Creek Center for the Arts and many more local galleries. Jim had also exhibited internationally, in the Motor City Review at the Museum of Culture Zacatecas Mexico, And in Dionysis a' Paris: Outiders, Meteques et Exile at the galerie, Halle St. Pierre, Paris France in April 1999.
Jim has received grants for the making of his art, most notably a $25,000.00 grant from Detroit Cultural Affairs Dept in 1998 to paint 11 murals in collaboration with Vito Valdez in The Cobo  Hall parking garage. He also received $2000.00 mini grant to put together a show called Spinal Art/Healing Nerve at the Willis Gallery 1996.Mr. Puntigam wrote both grants.
James is currently curating and installing art exhibits at the Ellen Kayrod Gallery, 4750 Woodward, Det, Mi. Mr. Puntigam from 2001-2008 was the director of the Zeitgeist Gallery and Performance Venue on Michigan Ave., Detroit. This Gallery exhibited outsider art from Detroit and European artists. From 1990-1992 he began and operated the Space Gallery on Grand River, downtown Detroit.
Mr. Puntigam currently teaches fine arts to the seniors at Luella Hannan Foundation. He has been coaching/instructing this class since 2010. James lives gratefully in Hazel Park Mi. with his wife, artist Diana Alva and his two dogs Scooter and Shirley.